Our Mission
Falls Art Foundry is a fine art, lost wax, casting and design facility located in the historic Portland neighborhood of Louisville Kentucky. Our business is the production of expertly crafted bronze sculpture for public, private, gallery and museum presentation.
We provide sculptors, designers, and our extended arts community with personal service, high quality casting, and unique educational opportunities. Our craftspeople are skilled artisans, willing and determined to manifest your vision into bronze.
We recognize and appreciate the unique relevance of each design, meticulously reproducing the artist's intent. From the monumental to the minuscule, we deliver.
We are members of The National Sculpture Society and The American Institute for Conservation of Historic and Artistic Works.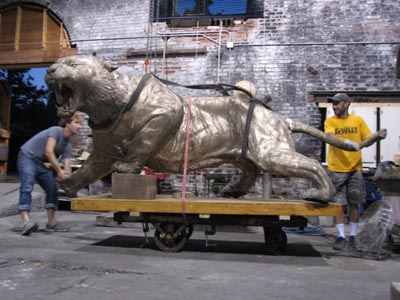 Learn more about our Services and Process
At Falls Art Foundry we are prepared and able to take your project from initial consultation and conceptual designs to sculpting, casting, patination, delivery and installation with the same care and attention we would our own.
However, we are also happy to work with our artists and clients who prefer our partial support of their vision by working from your molds or waxes and either returning or finishing your cast artwork. Regardless, of your needs our experienced team will work with you throughout the process to guarantee that every unique project meets its requirements, exceeds expectations, and is completed to absolute satisfaction. We are here to assist you and your project in whichever way we can be of service.